Crews work on AZT Superstition Mountains after Woodbury Fire scars landscape
AZCC In the News
Healing the Scars of the Woodbury Fire
October 18, 2019 | Earlier this summer, the Woodbury Fire consumed 123,000 acres of National Forest land and 30 miles of the Arizona National Scenic Trail (AZT) in the Superstition Mountains. A crew of Arizona Trail Association staff and stewards recently completed a trail conditions assessment between Rogers Trough Trailhead and Roosevelt Lake. They found the trail to be passable but very hard to follow, numerous blowouts from erosion events, downed trees, and new growth in the middle of the trail tread.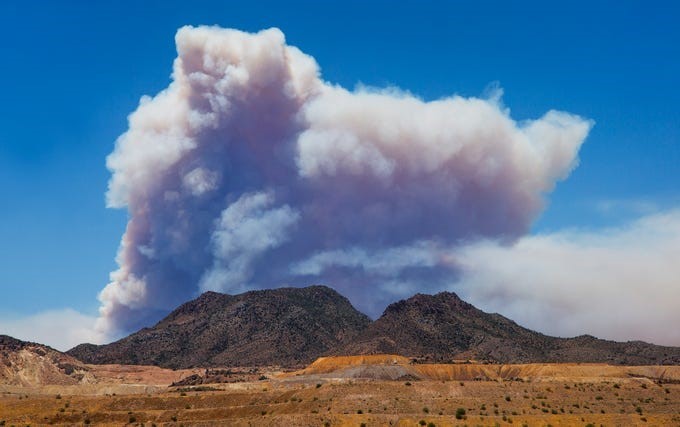 The information they gathered helped inform the Tonto National Forest where to send conservation corps to stabilize the trail during the busy thru-hiking season. Last week, Arizona Conservation Corps deployed a crew to begin improvements to the AZT to improve safety for trail users. Due to the remote nature of the Superstition Wilderness and the extent of the fire's damage, it will be a long process. We are grateful for Justin Eddinger at the Tonto National Forest for securing Burned Area Emergency Response (BAER) funds to support six conservation corps hitches and horses to haul in supplies to begin repairing the AZT.
 
While the Arizona Trail is officially open along Passage 19, extreme caution should be taken within the area. Unstable soils, falling trees, and lack of signs to assist with navigation are all considerations, however the greatest risk is flash flooding. Vegetation burned in the fire can't slow water naturally, and high-intensity burns often cause hydrophobic soils that slough off when wet. Rainstorms are always a consideration when hiking in Arizona, but are especially dangerous within burned areas. 
 
Any trail users visiting the Superstition Wilderness should have two means of navigation, including digital resources (e.g. Guthook app, Garmin card, GPS tracks) as well as paper topo maps for backup. Currently, the trail is very hard to locate and not always intuitive. Finding your way is going to be a lot harder than you think.
 
If you'd like to get involved with helping to rehabilitate the Arizona Trail, we are hosting a volunteer trail work weekend on November 16-17 near Rogers Trough Trailhead. Register here and help bring the AZT through the Superstition Mountains back to life. Volunteers will be needed to install wooden signs deep in the backcountry later this year, too. Become a fan of Passage 19 on the Volunteer Website to learn more about upcoming opportunities to rehab the AZT from the devastating effects of the Woodbury Fire.
 
Funds from the recent Keep it Super sticker fundraiser organized by Keep Nature Wild will help support volunteer efforts in the Superstitions. If you can't join us for strenuous labor across a scorched landscape, please consider donating to support our staff and volunteers in this effort.


Source: Arizona Trail e-News, October 2019