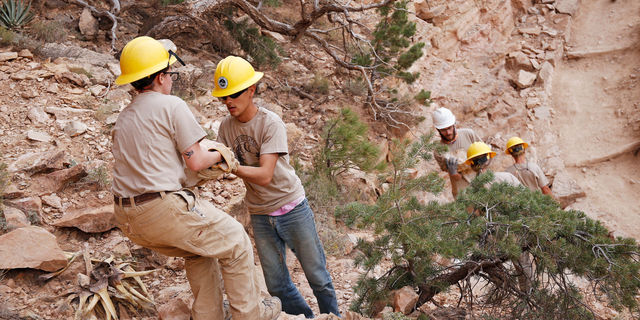 We are Arizona Conservation Corps!
Arizona Conservation Corps (AZCC) operates programs across Arizona engaging individuals and strengthening communities through service and conservation. AZCC is focused on connecting youth, young adults and recent era military veterans with conservation service work projects on public lands. Our programs promote personal growth, experiential learning and an ethic of natural resource stewardship while incorporating the guiding principles of community, dedication, challenge, integrity and FUN!
Vtora • AZCC Alumni

Boots on the Ground

AZCC has made me a totally different person and a better one if anything. I had no idea what I wanted to do with my life but now I'm slowly starting to figure out what I want to do and become. It's challenging work especially when you're hot, tired, thirsty, and just want to go home but at the end of the day it's all worth it. You'll become stronger not only physically but mentally as well and that's why I keep coming back for more."

Kyle • AZCC Alumni

Boots on the Ground

It means a lot to me to know I am an active environmental steward now. Repairing trails, removing invasive species and informing people about what we do makes me happy. People see the work we do and a lot of them ask how they can become a part of it too. It impacts my community by offering a rewarding work environment and providing opportunities for continuing education."

Tracy • AZCC Alumni

Boots on the Ground

I am more adventurous and capable in the back-country, and I'm less afraid of working hard and getting dirty. I feel that I'm less intimidated by starting big tasks or learning new skills, and have been able to apply them even in unfamiliar environments and challenging new work. I'll continue to fill my life with out-of-the-ordinary experiences that excite me, broaden my horizons, and teach me."
Our Partners Keep Us Going
Arizona Conservation Corps partners with land management agencies to accomplish critical conservation projects while providing young adults an opportunity to learn about land management issues and challenges. Partners make it possible!
From the field:
The crew was very professional and highly motivated! They came prepared for fence installation and repair and did excellent fence work. They also constructed a wooden deck for a Yurt and performed exotic species removal when the fencing location was inaccessible due to heavy monsoon rains. We have worked with Arizona Conservation Corps in the past and will work with them in the future!
-Kevin Dowell, Petrified Forest National Park