This week we were working our third hitch on the South Kaibab trail in the Grand Canyon, down by Cedar Ridge. For the last three hitches we have been doing trail maintenance making stairs into a ramp to make the hike easier on the people and the mules. We also gained some experience working with the pack mules, who carry dirt sacks to places on the trail where we need dirt to keep building. That was a fun and interesting experience!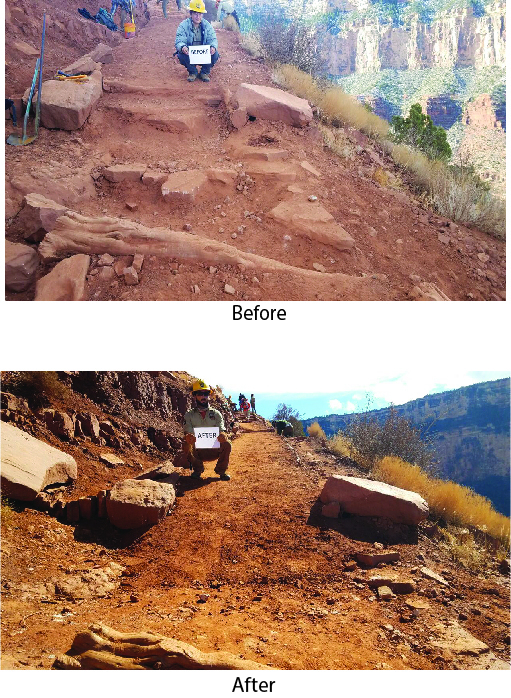 During this week, we had multiple occasions in which our Wilderness First Aid training came in handy. One day when we headed down the trail a man named Joe, a 15 time Rim to River Runner, had slipped on some ice and thought his knee was dislocated. It turned out it was a much more serious injury where his quad tendon had snapped. Luckily an EMT was there to take over, but we were on standby in case they needed us with rain jackets to donate for warmth and our fearless Crew Lead Bre there to calm him during a truly terrifying reality. Another girl passed out the second she stepped off the shuttle bus. It looked like she just had altitude sickness combined not having enough food or water that day. Luckily we are stocked with electrolyte pills in our first aid kit, and after having some water and some electrolytes she perked right up.
We had an education day at the Desert View tower and the Tusayan Museum. I learned that Mary Colter was an early architecture designer and she designed this tower that is the highest altitude in the Grand Canyon South Rim! Impressive stuff!
We also saw some cool animals this week, the Canyon is swarming with elk all the time around the rim, but this morning as we packed up camp, 2 sweet does wandered in to snack (and say good riddance to us). Yesterday we also saw a bighorn sheep, a much rarer sight. A real morale booster was one of the mule packers bringing us bacon, and a cute dog names Flint who visited our campsite. Also, Matt, our Project Coordinator brought us birthday cake oreos. If you ever want to see a happy conservationist, just give them a snack.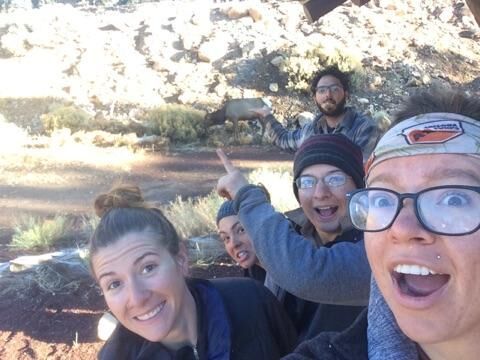 We have been working with a National Park Service trail guy (trail master, in my opinion) who is full of great humor too. He told us while we were working with the mules to be careful because if your helmet falls off they think your head falls off. I think that's adorable. He also saved our one bucket from falling into the canyon as he scaled the side of the hill like a sheep and retrieved it after it fell about 80 feet. What a guy.

This hitch was full of interesting situations, lots of laughter, and just enough hard work.
-Carlos Dominguez