5 Reasons Why You Should Join Arizona Conservation Corps Today
5 Reasons Why You Should Join Arizona Conservation Corps Today
 By Hunter Winterbourne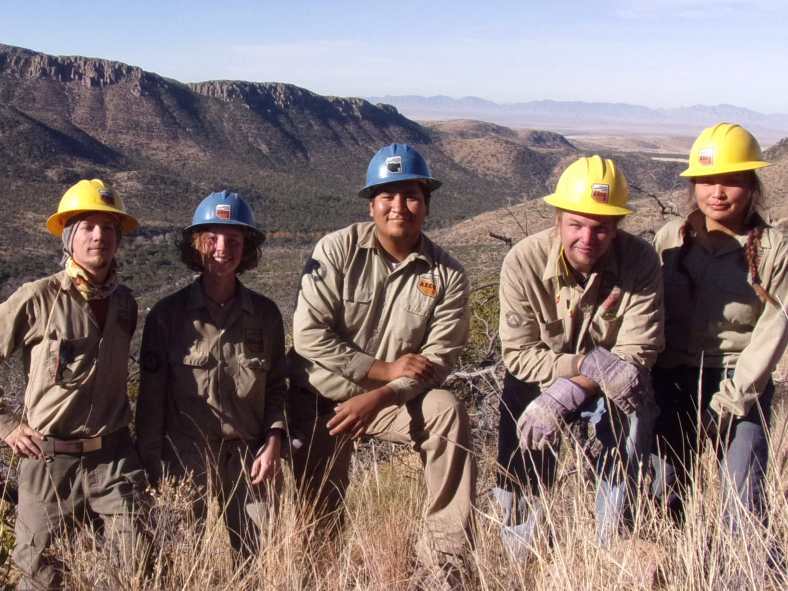 Almost all of us have slogged away at the turgid vapidity of job searching, endlessly sending out applications and hoping to catch something that is minimally soul-crushing. Most of the jobs I have had involved coming into the same, artificially lit building each day.
It can be difficult to find your way out of this cycle, especially when you're in your 20's and have a resume about as impressive as a dance performed by a fish that just flopped out of the water. So is there anything out there that's interesting, exciting, and doesn't involve doing the same thing every single day? Let's explore the Arizona Conservation Corps, a non-profit organization with offices in Flagstaff, Tucson, and the White Mountains.
5. Escape the Monotony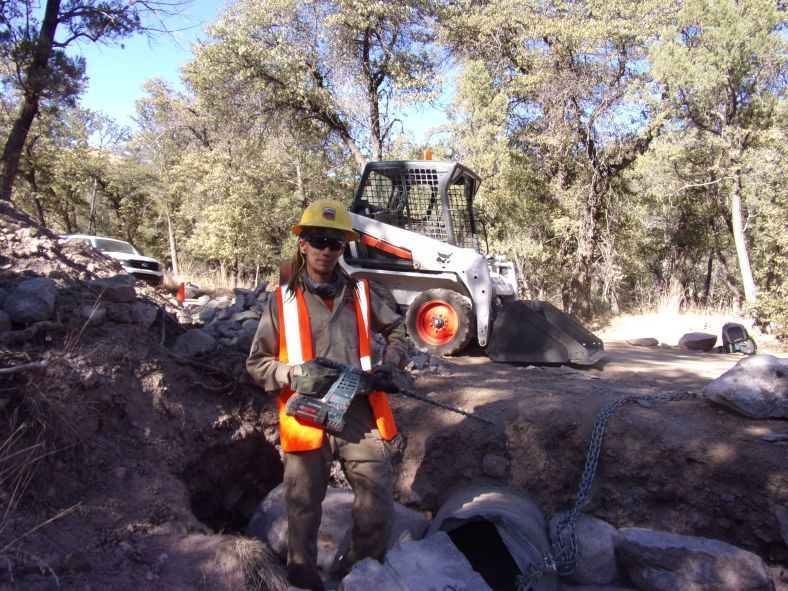 What if your office was outside, and instead of building a spreadsheet, you were building a trail? No matter what it is you're doing now, if your post high school experience was anything like mine, you'd do just about anything to find something different. The AZCC experience is about as different as it gets. We spend eight days in the field, where we camp, cook, and work outside. Camp duties are generally rotated among crew members, so someone might cook dinner one day, wash dishes the day after that, and have breakfast duty the next morning. It can be fun to cook stir fry one day, and have your crew leader make delicious quesadillas the next day. The work itself can change day by day as well; you could be building trails one day, removing invasive species, or making erosion control structures the next, so you aren't often bored.
You truly do have to be ready for anything, but all the work brings the satisfaction of a job well done when you've finished. Unlike your typical retail working experience, you can see your progress, not only in the work that your project brings, but also how you progress in the experience. A hand tool that you've never seen in your life will become second nature in a matter of a couple of months. I find that this noticeable difference in physical ability and the improvement we bring to the local community to be a refreshing change from the tedium of working in a call center or fast food joint.
4. Build your Resume
How much do you rely on words like "Good communication skills" and "Shows up to work on time" on your resume? Maybe you said you're proficient in Powerpoint from that one time you made a slideshow of selfies and Dragon Ball Z pictures for a middle school class. We certainly have all been there before, and 20-somethings these days have it harder than ever in a market that requires experience for entry level jobs. Is there any place that offers specialized experience in numerous fields of practice that is actually valuable to today's job market?
As previously mentioned, you often do a different thing every day at AZCC. This means you get many unique experiences involving many different techniques, tools, and settings. You would be surprised at how quickly you can learn to take apart and reassemble a chainsaw, which is exactly the type of problem solving skills that many employers are looking for these days.  The same thing goes for every hand tool you can imagine, and every electronic device used in the field as well. I've had the privilege to utilize such tools as GPS units, pole saws, and fence post removers. In every case, I began with zero knowledge of these tools, and now can use them all with natural ease. Along with the education you can take away about natural resources, National Parks, and various conservation efforts, you can take away a boat load experience to present to the job market. Instead of a list of reasons why you're a normal human being, you can actually boast a long list of specialized skills and unique abilities that just might snag you something that doesn't involve putting bread in the bread isle.
3. Get Fit
How fit are you on a scale from one to ten? Before I joined the AZCC, I would have rated myself at a ten, but only because that was the amount of tacos I would eat in a day. I could flex my arm and it would actually look less muscular. I tried to make myself do push-ups every now and then, but come on, who are we really kidding? Would you rather wake up and eat a Pop-Tart, or do twenty push-ups? I know a lot of us are the same way, and most of the jobs available to us don't exactly encourage a healthy lifestyle. When I first joined the AZCC, swinging a small hand pick was enough to get me out of breath within five minutes of it. We would start each day with safety and exercise, which involves fifteen minutes of calisthenics, and fifteen minutes of stretching. That would be followed by ten hours of hard work in the desert, doing anything from hiking for miles while pulling invasive grass to lifting heavy rocks to make erosion control structures. At first this just results in a lot of sore legs and stiff arms, but after a few months of it, most will find a significant difference in their fitness levels. One day you realize the rock isn't quite as heavy or that you've been swinging your pick for hours and didn't even notice. After a full term of this and you may find yourself looking in the mirror with all new muscles you never dreamed of having. Anything is possible when you're actively moving your body and eating well on a regular basis. You become stronger and more flexible, all while your endurance develops more and more each day. Also your tolerance for being covered in dirt goes up appreciably. This is the nature of the work, though. It's a very diverse group of people in the AZCC, and we all work hard together to deliver amazing results to our project partners in the National Park Service and Bureau of Land Management.  This, in turn, will deliver amazing results to your waistline, and quite possibly will give you that beach body you always wanted. So if you're looking to get buff, throw away your gym membership and join the AZCC.
2. Make New Connections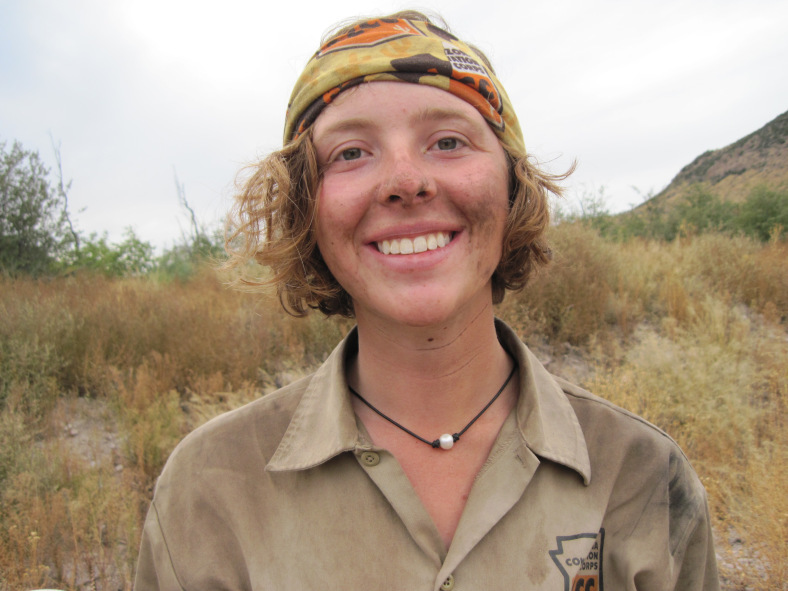 Where can you meet a diverse group of professionals who have valuable information about their fields of work and connections to networks that you might have mutual interest in? Well, down at the good ol' Arizona Conservation Corps, you are guaranteed to meet individuals from all walks of life and levels of experience. I've met geologists, biologists, environmental scientists, National Park Service employees, conservation leaders, field interpreters, and many more interesting people from all sorts of backgrounds. One of my favorite projects has been working with the volunteer buffel grass pulls, in which a diverse team of people volunteer their time to help control an invasive species. The age range was from high school teen to octogenarian and everyone was just as enthusiastic about the event. Anything you could possibly want to know about nature can be learned in the AZCC, from the ongoing efforts to preserve our natural resources, to the details of how things grow in Arizona and why the environment needs our help. I've found that this program has been a veritable gold mine of valuable insight from experienced professionals, as well as a solid network of references to go forward in my career with. If you find a passion in working with our National Parks and other public lands, you could go on to be a park ranger, or study the wildlife and geology to help discover new things about our regional and local environment, or give park visitors tours and teach people about our beautiful natural resources. If you're looking to open up your life to a world of new possibilities, Arizona Conservation Corps is a great place to do that.
1. Have the Time of Your Life
Have you ever camped deep in the mountains and awoken to stunning sunrises over sheer rock faces? Or stood in the middle of the open desert under a bright, blue sky? Incredible views are a regular part of life on an AZCC crew, and is a perfect break from the headache-inducing dreariness of an office.
Maybe breathtaking views aren't your thing. If you're a more social person, AZCC is also a great place for you. In crew life, your co-workers become your best friends. Spending eight days at a time with each other, doing everything together, you tend to develop personal bonds with these people. Every crew is different and the crew culture all depends on the people involved. Every crew has their share of inside jokes, shared quirks, and other unique interactions. Some crews make music together in their down time, singing camp songs and sometimes someone brings a guitar or harmonica, some play fun games like word association or cards. Every crew finds their own ways of having fun and passing the time, and it definitely brings the group together and makes working with everyone a great experience.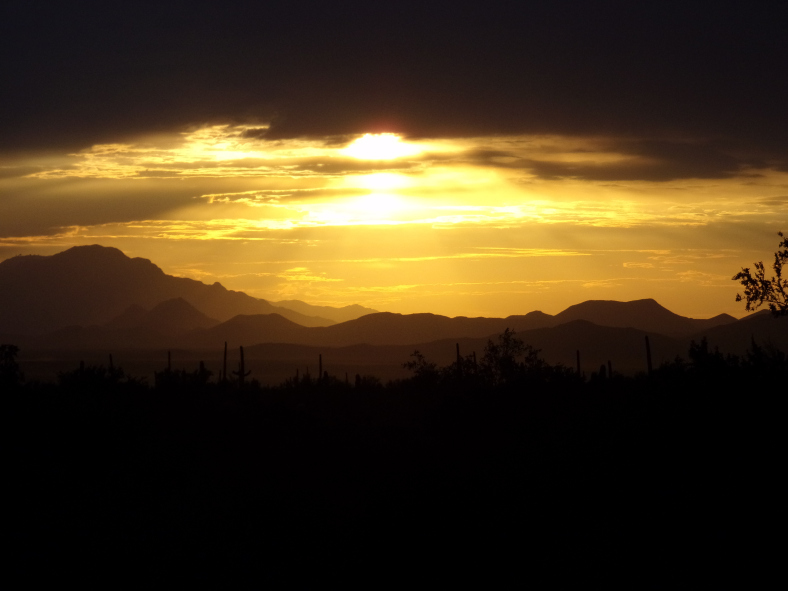 The more adventurous minded will also find AZCC a great fit. If you like travelling, you will be in the right place as we often travel to all kinds of places in Arizona, from the Saguaro National Park, to the Chiricahua Mountains. We've taken amazing hikes, seeing miles of pristine desert countryside. Many of the places we visit and work at are full of intriguing history, such as Fort Bowie, and Picture Rocks. There are few things as exciting to me as finding 10,000 year-old petroglyphs while I'm working.
So as you can see, no matter what it is you're doing now, there are many reasons to join the Arizona Conservation Corps. If you're looking to get into school, you may also be interested to know that Corpsmembers receive education awards from AmeriCorps for every term they serve. No matter what the reason you join, you will get much more from it than you ever expected.